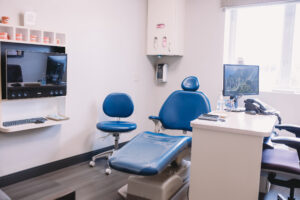 Finding the right orthodontist may be daunting, especially if you are looking for a provider for the very first time. However, the most important thing to remember as you research is to pick an office that makes you feel welcome and comfortable, as you will spend a fair amount of time with them throughout your treatment. Here are five of our top tips for picking the best orthodontist for you:
1. Research their reputation and credentials
If there's one thing you can rely on, it's the opinions of other patients! Most orthodontists have testimonials on their website or social media, though you may also find helpful reviews on websites such as Google. It's also important to find out an orthodontist's background and credentials. After all, if you're trusting someone with your smile, you want them to be experts, like our Petty & Bielik Orthodontics team! Look for an orthodontist with a wide range of expertise and modern practices in care, technologies, and treatments.
2. Go somewhere family-friendly
If you have children who need treatment, pick a provider who works with all age groups. You will want to ensure your orthodontist has expertise in pediatric orthodontics. Children and adults have different orthodontic needs. The American Association of Orthodontists recommends bringing your child to an orthodontist by age 7, so it's never too early to start researching!
3. Learn about a practice's treatments
While there may be some similarities between orthodontic practices, their experience, care, and specific treatments may vary. Though not every patient is a good candidate for certain treatments, so be sure to research treatment options. For instance, if you are interested in discreet adult orthodontics, check if a practice offers clear (ceramic) braces or clear aligners.
4. Look at their payment options
Some people find paying for orthodontic care intimidating, but the best way to crush any fear is to discuss payment options with a potential provider. After all, you deserve to know up front how much you'll be paying and when. Check if the practice accepts your insurance provider if you have dental coverage. If not, discuss financing plans or potential discounts to make treatment more affordable. Doing this research is a great way to plan for your expenses and feel confident about your care.
5. Find local experts
You've probably heard the phrase 'shop locally,' but there are equal benefits to pursuing healthcare locally, too! Because orthodontic treatment requires regular office visits, choosing a provider who is easily accessible to you is most convenient. In addition to being nearby, you should also ensure that your orthodontist has a range of appointment times so you never miss visits.
The entire team at Petty & Bielik Orthodontics is committed to making you feel comfortable, addressing your unique needs, and helping you achieve your unique goals. For more information or to schedule an appointment, call us at 708-636-2900!