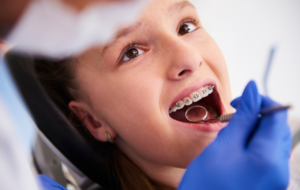 Orthodontic needs differ from person to person, and this goes for children, too! The American Association of Orthodontists recommends bringing your child in for their first consultation by age 7—or earlier if you or a dentist notice issues. However, here are some additional clues that your child may be ready for braces or, at least, a trip to the orthodontist.
Losing baby teeth early
How many baby teeth has your child lost (if any)? Even if your child is much younger than 7 years old, it may be time to prepare for orthodontics if they lose baby teeth too early. When this happens, it can impact how the permanent teeth erupt and lead to orthodontic issues.
Patients who begin orthodontics at a young age may receive a two-phase treatment. With two-phase care, patients wear appliances before and after losing all of their baby teeth. For some, there are advantages to starting treatment early, including correcting complex bite and jaw problems before they progress and preventing other issues from developing.
Having a bite that impacts daily life
If you notice your child having trouble chewing or speaking, it's likely time to visit the orthodontist. Issues like underbites or overbites can impede daily life and sometimes worsen if left untreated. Not sure if your child suffers from a bad bite? Our experts can identify existing, developing, or future problems with the jaw, facial growth, and teeth. Correcting these early on can prevent discomfort, inconvenience, and poor function in the future. By working with your child's natural growth, we can deliver a healthy, happy bite and smile.
Noticing orthodontic issues
Another great way to know if a child is ready for braces is whether they seem to know they're ready for braces. Hearing your child commenting on their crooked teeth or problematic bite may signify that they are ready to transform their smile aesthetics. Going into orthodontic treatment with an understanding and prepared child is ideal, so always be ready to open the conversation and discuss how braces can improve confidence, health, and function!
Book your child's appointment today
Think it's time for your child's first appointment? We can't wait to have you in our office! If you are ready to schedule an appointment or have any questions, please call Petty & Bielik Orthodontics at (708)-636-2900!